Assassin's Creed III DLC: The Tyranny of King Washington (With Wolf Powers!)
The story continues. Assassin's Creed III was a hit. Personally, I thought it was great overall, and the story was really good. The online was fun also, especially when you didn't suck (obviously, but somehow that axiom seemed even more prominent here). In conclusion, it was a truly enjoyable experience.
But there is more.
No one is a virgin of DLC's. At least, very nearly no one. I find it hard to believe any of you would not know this, but just in case: DLC stands for Downloadable Content.
Now, the DLC of Assassin's Creed III has been revealed: This morning, we were given the video you see above with the following comments by Ubisoft.
"Discover the new and devastating powers that our hero, Ratonhnhakéton, will use as he faces a new enemy, King George Washington in Assassin's Creed III's "The Tyranny of King Washington" DLC. Invoke the power of the wolf to stalk enemies invisibly, and call on wolf packs to take down your foes. Use these special skills to defeat this new threat to freedom."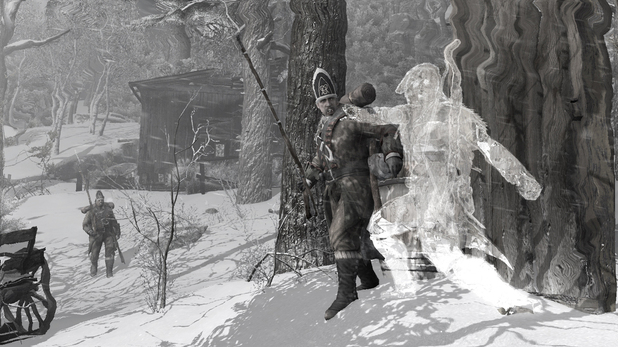 Although this sounds pretty cool, looking at the video… it also seems kind of lame. The "Power of the Wolf" thing seems very temporary and see-through, and for a game that's whole point is stealth, kind of unnecessary. Same with the "Wolf Pack" thing: Since the first tutorial in the first AC, we've been taught to pick enemies off one by one, and this seems contradictory. I can at least see a little point for it though: Ubisoft has advanced the notorious "parry and kill- that was easy" a LOT, even more than in Revelations (Impervious to kicking? What? How?).
Ubisoft explains more: "As the revolution comes to a close, a new and most unexpected enemy emerges. Driven by the desire to secure the fate of the colonies, the greatest hero of the revolution, George Washington, succumbs to the temptation of infinite power. The new King is born and his reign leaves no one untouched. To return freedom to the land our new hero must dethrone a tyrant he once called friend." We've seen the ads for this DLC, at least those of us who bought AC III." This brings me to another point, regarding the ads: This DLC costs money. "Gasp!", I hear you all say (sarcasm). And no, it's not "new" or anything for DLC's to cost money. Very many do, like Skyrim's (sniff sniff). It's just that ever since EA announced that they will start using microtransactions for everything, I've been thinking about them quite a bit. Let's see what Ubisoft has to say about this, shall we?
"All (3) episodes of the Tyranny of King Washington are available through the Assassin's Creed III Season Pass, which is available for purchase for 2400 Microsoft Points on Xbox LIVE or $29.99 on the PlayStation Network and Windows PC. Each episode of The Tyranny of King Washington will be available for purchase separately as a single DLC pack for 800 Microsoft points or $9.99."
Episodes? Kind of a strange way of putting it. Why are they sold separately if they are "episodes"? Can you have one without the other two, or are they trying to trick people into thinking "Oh, I'll just buy one" and then later finding out they're only sold separately to cause more people to buy them and that you actually need all of them? You'll notice that buying them separately costs a whole two cents less than buying the Pass. Considering all the stuff you get with the Pass, I was expecting a considerably larger difference in price. Two cents! Apparently Ubisoft, like most people, deems the Pass worthless. Oh well, I guess you could interpret it the other way too: It's stupid to buy them separately? Probably what happened is coincidence that 10 times 3 is 30, and the Season Pass costs the same amount. Ah and, I forgot to mention, you can't buy the PC version without the DLC, but you probably already knew that.
Although there is a big cloud of confusion and what some may call bad ads surrounding this DLC, it looks like some people might buy it. The actual game was good, but not insane, and quite honestly although as I said, people will buy it, though I won't be one of those people.